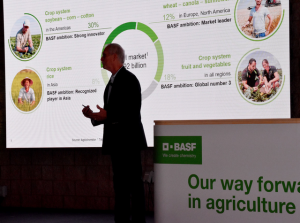 BASF continues to innovate in a number of agricultural spaces, including a sustainable cotton program. Working with Wrangler and other companies, products like blue jeans branded as "Rooted" can be documented as being grown through sustainable practices.
"All this cotton is grown by a system of documented sustainability which we help growers with. They, through a farm management system, record all their production steps that prove it is sustainable so therefore Wrangler can say that these were produced sustainably," said Rick Turner, Sr. Vice President of seeds and traits, BASF.
The jeans are identified as "Rooted" on the front left pocket with the identification of the grower on the front right pocket. Turner said there are currently five growers in the program. BASF has a network of around 40 different apparel companies looking at these types of sustainability programs for cotton.
The company continues to make strides in other crops, as well, including wheat, canola and vegetables. Stronger hybrid programs for both wheat and canola are improving yields and making those crops more economically successful for growers. The company is also getting ready to launch a new, tearless onion, which could be game changing for consumers.
Listen to Cindy's interview with Rick here: Interview with Rick Turner, BASF Senior VP Seeds and Traits