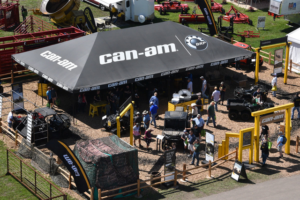 Two 6X6 models were front and center at the Can-Am display during the 2019 Farm Progress Show in Decatur, Ill. Visitors to the show responded positively to both the Defender and Outlander 6X6 vehicles as they saw what the company has to offer in both the agriculture and hunting sectors.
"I think what people really appreciate is the utility function of the new Defender 6X6. You can turn that six foot long bed into a flatbed… just the versatility that it offers over really anything else that we offer," said Andrew Howard, Can-Am media relations.
Howard said the utility market continues to be a huge focus for Can-Am, and the accessories available are one of the best selling points because they are designed specifically for these machines and are often interchangeable with other Can-Am models.
Listen to Chuck's interview with Andrew here: Interview with Andrew Howard, Can-Am