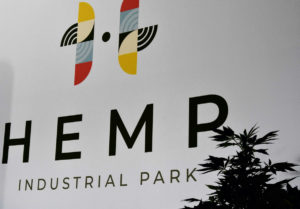 Hemp has officially arrived as an agricultural commodity with its inclusion as an exhibit at the 2019 Farm Progress Show.
The Hemp Industrial Park featured hemp company and organization exhibitors, daily educational presentations, and examples of products made from hemp. "It's been an amazing experience all around," said Erica Stark, executive director of the National Hemp Association. She says that interest in hemp farming has skyrocketed since it was included in the 2018 Farm Bill. "Our phone literally rings off the hook every day," Stark said.
Stark says they are not sure what the final acreage numbers will be this year, but they expect it to be at least 200,000 – up from 80,000 last year. Listen to my interview with her here:
Interview with Erica Stark, National Hemp Association
Hemp was also a big topic at the Ag Policy Forum listening session with USDA Secretary Sonny Perdue and members of the Illinois Congressional delegation. First generation farmer and executive director of the Illinois Hemp Growers Association Rachel Berry asked about encouraging growth of the hemp fiber market, as opposed to the CBD market. "I'm hopeful we can develop a lot of uses for fiber because otherwise the productivity of the American farmer will crash this market for CBD oil before it gets off the ground," said Perdue.
Listen here:
Sec. Perdue answers hemp questions during Ag Forum
Also in hemp news during the FPS, USDA's Risk Management Agency (RMA) announced coverage for hemp grown for fiber, flower or seeds, which will be available to producers who are in areas covered by USDA-approved hemp plans or who are part of approved state or university research pilot programs. RMA Administrator Martin Barbre, an Illinois farmer, was at the show the day the announcement was made.
USDA-RMA Administrator Martin Barbre on hemp crop insurance