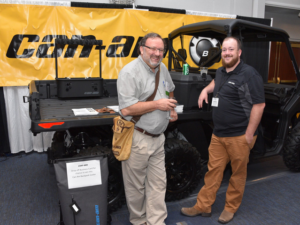 Participants at the 2019 Ag Media Summit in Minneapolis saw a brand new model from Can-Am that is scheduled for a 2020 release.
Unlike anything Can-Am has built before, the Defender 6X6 DPS Side-by-Side has a giant bed allowing for expanded storage, with the capability of removing the sides and tailgate for tremendous flexibility, according to Andrew Howard, media relations.
"When Can-Am came out with the Defender Side-by-Side in 2016, they wanted to build a machine that fit a lot of different needs and they just continue to grow upon that," said Howard.
The newest model features an additional 10HP with an improved transmission system and less engine noise than previous models. Users can put 1,000 lbs. on the bed or tow up to 3,000 lbs. The model goes to production in August and is available for pre-order through local dealers or the Can-Am website.
Listen to Chuck's interview with Andrew here: Interview with Andrew Howard, Can-Am