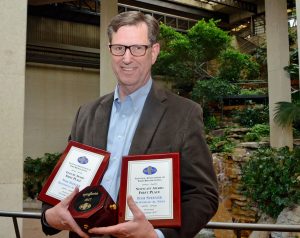 Tom Steever has won pretty much every award a farm broadcaster can win, he's been a member of the National Association of Farm Broadcasting (NAFB) for 45 years and served as president more than once, and he has been anchor/reporter for the biggest farm network in the country for over 15 years – so it's time to slow it down a little.
On September 30, 2019 the veteran farm broadcaster is retiring from his full-time role as Anchor/Reporter and easing into a part-time position with Brownfield.
Tom Steever is a graduate of South Dakota State University with a degree in broadcast journalism. His career in journalism began as a photographer for student-run publications in high school and college and continued with part-time on-air work for the campus radio station and commercial stations in Brookings and Sioux Falls.
"My farm upbringing in southeastern South Dakota prepared me to begin my farm broadcast career at KSOO in Sioux Falls, South Dakota, followed by livestock market reporting on dozens of Upper Midwest radio stations and on CBS affiliate KELO-TV in Sioux Falls," said Steever.
Steever left South Dakota for a brief stint anchoring Channel Earth on DirecTV. He went on to do news part time at WLS in Chicago before joining AFBF.
During his farm broadcast tenure, Steever traveled extensively, covering stories in 15 countries, including Germany, China, Cuba and Brazil. He has been honored by farm and commodity organizations in South Dakota, Missouri and Illinois and awarded FFA Honorary Farmer Degrees at the chapter, state and national levels.
Steever has been member of the National Association of Farm Broadcasting since 1976, serving as Regional Vice President (two different regions), National Vice President, President Elect and President (2012).
Tom's wife Lori is a retired surgical technologist. Son Brian is a musician in Kansas City and daughter-in-law Katie, a dentist in Kansas City.
Brownfield will begin seeking applications for a full-time Anchor/Reporter in mid-July with plans to have someone hired and ready to assume those responsibilities on October 1, 2019.