Here's a big announcement for Brownfield, a company I used to work for!

Brownfield welcomes Rural Radio satellite channel 147 to the suite of agriculture networks it represents for national sales. This partnership increases Brownfield's current marketing reach and expands listening opportunities for unique Brownfield programs featured along with Rural Radio programs.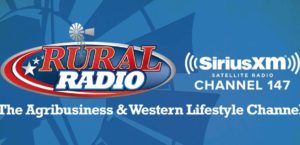 "This is a great partnership bringing two of the industry leaders in audio for the agriculture and rural lifestyle together to provide greater opportunity for our partnered brands," explains John Baker, Senior Vice President of Brownfield. "This allows Brownfield the opportunity to provide our clients with a platform that gives national coverage and unique customized programs that are client driven and compliment their media strategies."
The addition of Rural Radio on SiriusXM to Brownfield's portfolio is significant to advertisers. Brownfield in combination with its rep partners now offers more radio coverage of U.S. agriculture than any other radio group in the country, reaching listeners in 86% of the U.S. corn acres and 69% of U.S. soybean acres. In addition to increasing farmer reach nationally, the Brownfield/SirusXM combination offers up to 50% or more reach of growers in key Midwest states.
Brownfield will represent Rural Radio and all commercial inventory on the channel from 6am-1pm central time offering sales support, research, and unique program opportunities that are both strategic and client driven. Advertising can be targeted by commodity to zero in on desired audience by placing fixed position messages.