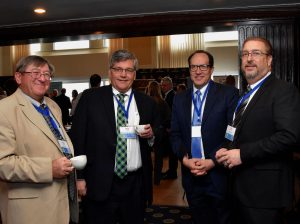 The new Specialty Soya and Grains Alliance (SSGA) now has an executive director.
Eric Wenberg has been named executive director of the organization and began work on Monday with meetings in Washington, D.C. and a visit to the 2019 Agri-Pulse Ag and Food Policy Summit. He is pictured here, second from right, with (LtoR) former American Soybean Association president and Delaware farmer Richard Wilkins, former USDA-NRCS chief and conservation consultant Bruce Knight, and Minnesota Soybean CEO Tom Slunecka.
Wenberg comes to SSGA after retiring as a career member of the Senior Foreign Service, and following a twenty eight-year career with USDA's Foreign Agricultural Service (FAS) serving in American Embassies in Ottawa, Pretoria, Warsaw and Moscow. He was active abroad assisting U.S. agricultural businesses exports, negotiating trade agreements, settling disputes with foreign governments, and speaking and publishing reports on foreign agricultural conditions.
"SSGA is positioned to drive efficiency and create opportunity in the identity-preserved soy and grain sector, and help businesses and farmers enjoy the price premium they can earn with their hard work fulfilling those consumers' demands," said Wenberg.
I had a chance to meet Eric at the summit on Monday and do a brief interview with him to learn more about the recently announced alliance between the Midwest Shippers Association (MSA) and the Northern Food Grade Soybean Association (NFGSA).
Specialty Soya and Grains Alliance Executive Director Eric Wenberg