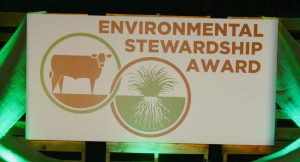 Thunder View Farms in Grahamsville, New York was honored this week at the Cattle Industry Convention as the winner of the National Cattlemen's Beef Association 2018 Environmental Stewardship Award Program (ESAP).
Thunder View Farms originated in 1958 when Phil Coombe brought five registered Angus cows to the farm. Phil's brother Dick joined the operation soon after and they have been running the operation together ever since. Today, the farm has more than 200 seedstock cows on 1,500 acres 100 miles north of New York City. It sits between two of the state's biggest reservoirs supplying drinking water to the nine million people in the city. In the 1990s, New York City proposed tough watershed regulations that would have driven most farmers out of business, but the Coombe family, along with other families in the area, convinced officials that a way to keep land and water in pristine conditions was to keep the land and forests in well managed farms.
The ESAP was established in 1991 by the National Cattlemen's Beef Association to recognize outstanding land stewards in the cattle industry and is sponsored by Corteva Agriscience™, the Agriculture Division of DowDuPont™; McDonald's; USDA Natural Resources Conservation Service (NRCS); U.S. Fish and Wildlife Service; and the National Cattlemen's Foundation.
2019 Cattle Industry Convention & NCBA Trade Show Photo Album
Official Cattle Industry Convention and NCBA Trade Show virtual newsroom