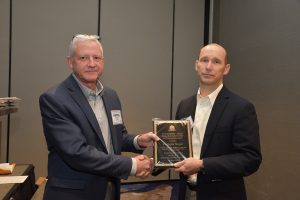 Dr. Gaylon Morgan of Texas A&M University received the Outstanding Career Research for Cotton Agronomy Award at the 2019 Beltwide Cotton Conference. Morgan said he was honored by the recognition.
"Everything that we do within my program, the end goal is to improve things for the farmer," he said. "A lot of that is working with allied industry to bring new products to the industry, provide an unbiased approach in looking at those and then provide that information to those growers that ultimately will make them money and keep them sustainable."
Award sponsor BASF is a company Morgan works with closely. He said they are very supportive of applied research within the field.
"We were really happy to be able to sponsor this award for him," said Dr. Kenny Melton with BASF. "Gaylon has been really important in the industry for many years now, not just in Texas, but across the Cotton Belt. He has participated in a lot of projects that have really been beneficial to the industry."
Melton called Morgan an integral part of the cotton community.
Listen to Chuck's interview with Dr. Gaylon Morgan here: Interview with Dr. Gaylon Morgan, Texas A&M University
Listen to Chuck's interview with Dr. Kenny Melton here: Interview with Dr. Kenny Melton, BASF