The American Farm Bureau Federation presented its highest honor, the Distinguished Service Award, to Sen. Orrin Hatch, and the Farm Bureau Founders Award to Dick Newpher on Sunday during the opening general session of AFBF's 100th Annual Convention.
Sen. Hatch, who was not present to receive the award in person, was a longtime advocate in Congress for farmers and ranchers. Before his retirement on Jan. 3, Hatch was the longest-serving sitting Republican senator in history. He sponsored more bills that have become law than any other living senator.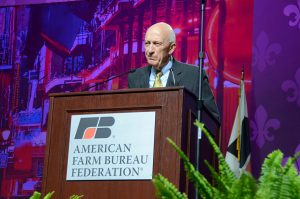 Dick Newpher, a Pennsylvania native, long served as a Farm Bureau leader at the state and national levels. Starting out at Pennsylvania Farm Bureau as a field representative for Clearfield, his home county, he went on to serve as AFBF executive director of public policy and then executive vice president and treasurer of the organization and its affiliated companies.
"I especially want to thank those people, both volunteers and staff, who spent the last 40 years trying to actually find something I could do," said Newpher, accepting his award. "I kept having a job and finally I retired and I'm sure they breathed a sigh of relief."
Listen to Newpher's remarks here.
AFBF19 FB Founders Award Dick Newpher remarks