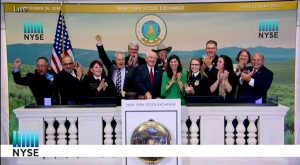 U.S. Secretary of Agriculture Sonny Perdue rang the closing bell at the New York Stock Exchange on Wednesday afternoon, along with agriculture industry representatives both on and off the podium.
"The farmers, ranchers, foresters and agricultural producers across America contribute a great deal to the American economy," Secretary Perdue said. "I'm pleased to be here today, at the center of our economic activity, with all these people that I've met across the country to celebrate the bounty of the American harvest."
On the podium, Secretary Perdue was joined by members of the National Association of State Departments of Agriculture, National Pork Producers Council, National Cattlemen's Beef Association, the president of the American Farm Bureau Federation, National FFA students and representatives from New York, and four farmers he met while traveling across the nation.
Off the podium, Secretary Perdue also welcomed farmers, producers and leaders he met on his travels.