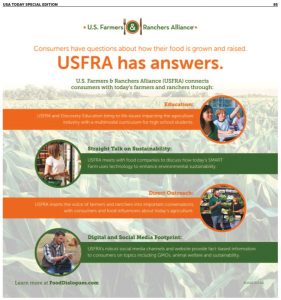 The U.S. Farmers and Ranchers Alliance is showcased in a special edition of USA Today, their annual U.S. Department of Agriculture Special Edition. This one is titled, "Seeds of Change: Cultivating the Next Generation." You'll find USFRA on pg. 85. The full page showcases USFRA's efforts to promote agriculture through Discovering Farmland, Straight Talk on Sustainability, Faces of Farming & Ranching and its digital and social media footprint.
This is a 100-page publication to commemorate agriculture's myriad of achievements, as it remains a bright spot in the U.S. economy. The issue looks at how the USDA expands economic opportunity through innovation, promoting agricultural sustainability and conserving our nation's natural resources.
You can contact USFRA about obtaining a copy of the edition or you can also click here to access to digital version.