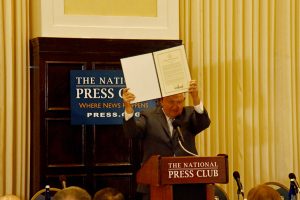 The Trump administration went out of its way to show appreciation for the nation's farmers and ranchers on National Agriculture Day Tuesday, with proclamation at USDA featuring the vice president, and an address by Sec. Sonny Perdue during a Ag Day at the National Press Club.
Introducing Vice President Mike Pence, Perdue commented that he was happy to be able be there this year since, "last year I was not confirmed by National Ag Day and they had me held hostage at an undisclosed location for three months and they wouldn't let me come celebrate with you."
During his comments at the National Press Club, Perdue gave an update on some of the many issues concerning agriculture at this time including a fix to the 199A tax issue, farm bill negotiations, NAFTA and exports, RFS and RIN prices, infrastructure, and more.
Agriculture Secretary Sonny Perdue Ag Day Remarks