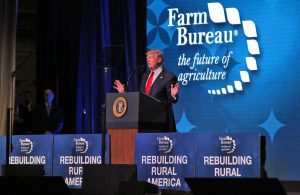 "Farm country is God's country," said President Donald J. Trump at the conclusion of his remarks to a record crowd at the American Farm Bureau Federation 99th annual convention in Nashville.
"This is your 99th year, so I was very disappointed to hear that," Trump said. "A hundred is so much cooler, I have to be honest. So I'll be back, I think. Next year, I'll come back."
The president hit all the high notes to please the crowd that helped elect him to the White House, from lower taxes to increasing rural broadband access, but only briefly mentioned trade and NAFTA, which farmers are most concerned about when it comes to administration policy. He focused on eliminating unnecessary regulations. "Oh are you happy you voted for me," the president said as he talked about "ditching the rule" – the Waters of the U.S. or WOTUS, which Farm Bureau stridently opposed.
Listen to President Trump's entire remarks here – President Trump at #AFBF18
Watch President Trump video archive
Find links to all AFBF convention content.