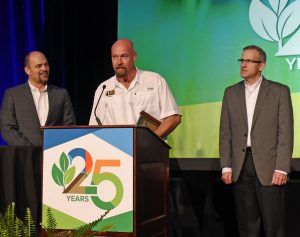 The 2017 Operator of the Year, sponsored by AGCO Corporation, Andrew Myburgh of Aberdeen, South Dakota, was honored at the recent Agriculture Retailers Association (ARA) annual meeting in Phoenix, Arizona.
Originally from South Africa, Myburgh is a Certified Applicator at the Wheat Growers in Aberdeen, where he treats 40,000 acres of fields and is often requested by name. Now a permanent resident of the U.S., he lives on a small farm with two sons, where they care for a variety of animals. He is involved in the community by coaching a local soccer team and training other applicators in his trade.
Myburgh won a Harley-Davidson motorcycle for being chosen as this year's winners out of more than 40 applicators who were nominated.
Listen to Andrew Myburgh accepting the award here: AGCO Operator of the Year Andrew Myburgh