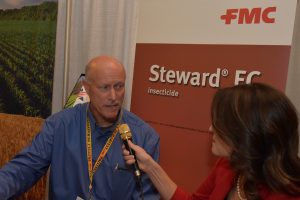 FMC's Great Plains Sales Manager, Tom Koranek, covers Canada to Mexico and lands between the Mississippi and the Rockies. We had the opportunity to learn about one of the products awaiting approval to combat those pesky insects interesting in corn. Steward® EC insecticide controls western corn rootworm adult populations.
"There's resistance today of a lot of the products that are used in corn for not only corn rootworm but also the worm complex, and so Steward will offer control of some of those resistant insects. We use it in an integrated pest management approach, so it will be just another tool to use again at that silking time," said Koranek.
Steward EC should help to extend the life of the traits used in corn today on both above ground and below ground pests. Field trials have shown excellent control of rootworm adults, especially in areas with high levels of resistance.
Listen to Jamie's interview here: Interview with Tom Koranek, FMC
View and download photos here: 2017 NAFB Convention Photos