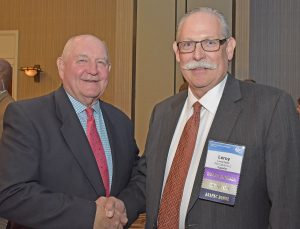 For the past nine years, Leroy Startz with ING Capital has chaired the committee that plans the Agricultural Retailers Association annual conference. Startz said this year's conference had strong attendance and even stronger enthusiasm from participants, even though low commodity prices continue to challenge the industry.
"Prices are not where they need to be. Everybody's trying to figure out how to make more with less, all the way down to the farm level," said Startz. "We need these markets to turn around a little bit. Therefore, we need that trade and we need our administration and our Secretary of Agriculture to recognize that we've got to open up some new markets for our products."
U.S. Ag Secretary Sonny Perdue was among those scheduled to speak at this year's conference.
Listen to Chuck's interview with Leroy Startz here: Leroy Startz, ING Capital