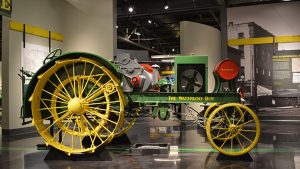 In March of 1918, John Deere entered the farm tractor business through the acquisition of the Waterloo Gasoline Engine Company, and the rest is history a century later.
Deere kicked off series of events to celebrate the centennial by hosting a Gold Key Tour for the Wade Purvis family of Florida and delivery of their new 8245R John Deere tractor – the first 2018 tractor made in Waterloo, Iowa. The new tractor includes a commemorative badge that will be appear on several models of 2018 John Deere tractors including the 6 Series, 7 Series, 8 Series and 9 Series machines.
The Smithsonian's National Museum of American History will mark 2018 as the year of the tractor, installing a 1918 green, yellow and red Waterloo Boy tractor will at the entrance of the business history exhibition in January. Within the exhibition, a new display on "Precision Farming" will examine a more contemporary story of disruptive technology in today's agriculture industry with the use of technology including a GPS antenna donated by Deere.
John Deere will be placing iconic tractors on display at the John Deere Tractor & Engine Museum in Waterloo, Iowa, the John Deere Pavilion and John Deere World Headquarters in Moline, Ill., as well as at the John Deere Forum in Mannheim, Germany.