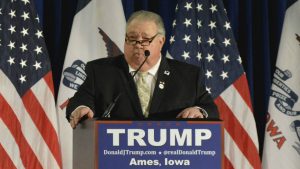 Controversial USDA nominee Sam Clovis of Iowa has withdrawn his name for consideration as Under Secretary for Research, Education, and Economics.
Clovis has been controversial from the start, since the position is also called chief scientist, and the talk show host/economics professor has no scientific background. But grand jury testimony on Russian campaign involvement put Clovis in the spotlight last week and made it likely that topic would be addressed in any confirmation hearing.
In a letter to President Trump dated November 1, Clovis said, "The political climate inside Washington has made it impossible for me to receive balanced and fair consideration for this position. The relentless assaults on you and your team seem to be a blood sport that only increases in intensity each day. As I am focused on your success and the success of this administration, I do not want to be a distraction or negative influence, particularly with so much important work left to do for the American people."
Clovis will "continue to serve at the pleasure of you and the secretary of agriculture" within the USDA as senior White House adviser.
Meanwhile, Bill Northey is back on the job as Iowa Secretary of Agriculture as his nomination remains in limbo. He is hoping to complete his goal of visiting all 99 counties in the state, covering about ten more this week. Sen. Ted Cruz (R-TX) is continuing to hold up Northey's nomination until President Trump agrees to a meeting with refinery state senators about the Renewable Fuel Standard (RFS).