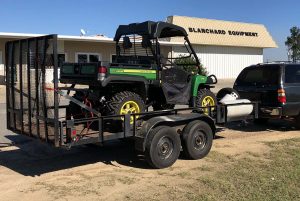 At this year's Sunbelt Ag Expo, John Deere held a ride and drive of their new line of Gator XUVs for the first time. Before I get to the new line of XUVs let me explain the photo. In the photo is a model 825i that I will be test driving at my deer hunting camp this fall to get a real feel for how well these vehicles work for outdoor trail/hunting applications. I will be writing about the experience periodically. After I left Sunbelt Ag Expo my brother and hunt partner Paul and I picked up the vehicle from Blanchard Equipment in Tennille, GA. We've already taken it for a short drive on a new fire trail and it is comfortable!
Now back to my ride/drive at Sunbelt Ag Expo. I rode with Mike Ballou and had him explain the features of the new line of utility vehicles which were first introduced at the Farm Progress Show.
Mike drove an XUV865R unit while I held the camera (iPhone 8). The 865R is a top of the line XUV with a full cab and now includes air conditioning. We were riding on a very dry, warm, dusty and windy day but were very comfortable in the cab. You can find a full list of features and specifications here.
So, ride along in the video below.
2017 Sunbelt Ag Expo Photo Album
Stories from Sunbelt Ag Expo sponsored by