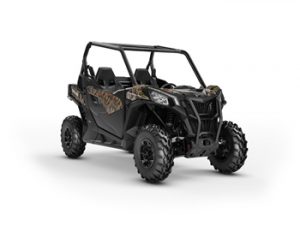 It's time for fall hunting and lots of preparations are underway. I'll be spending some work days later this week at the Crystal Pig Hunt Club in fact.
So, what will you be driving into the woods or wherever your hunt leads you? How about a brand new Can-Am Maverick?

Can-Am, unflinching in its sworn efforts to solidify its side-by-side vehicle lineup, introduces the 2018 Maverick Trail family of 50-in. (127 cm) class side-by-side vehicles. The new, two-person Can-Am vehicles present trail enthusiasts with new levels of control, convenience, comfort and versatility by supplying an agile, adventurous and confident platform. The Maverick Trail vehicles target off-road enthusiasts with their strategic proficiencies, dogged capabilities and resourceful customization options, helping owners and their passengers escape into nature. Can-Am Maverick family DNA further enhances the class-changing attributes with an impactful design that provides the Maverick Trail family with unmatched styling, durability and fit-and-finish.

The choices, specifications and overall description of this addition to the Can-Am lineup is too long to share here. But you can find out a lot more here.