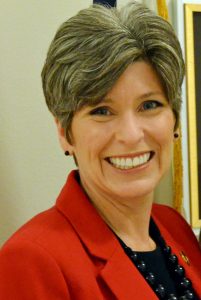 U.S. Senators Joni Ernst (R-Iowa), Angus King (I-Maine), Joe Donnelly (D-IN), and Susan Collins (R-ME) introduced bipartisan legislation this week that would increase funding to USDA's export promotion programs.
The Cultivating Revitalization by Expanding American Agricultural Trade and Exports (CREAATE) Act would double funding for two of the USDA's most successful programs, the Market Access Program (MAP) and Foreign Market Development Program (FMDP) over five years.
"As American farmers and ranchers are struggling with historically low commodity prices, maintaining and strengthening U.S. trade relationships around the world is critical to the survival and profitability of the agricultural community," said Senator Ernst.
The bill has the support of agricultural groups like the National Corn Growers Association and American Soybean Association, as well as agricultural trade coalitions made up of a number of organizations. Members of the Coalition to Promote U.S. Agricultural Exports and the Agribusiness Coalition for Foreign Market Development both strongly support the legislation noting that funding for USDA export programs have stagnated over the years due to inflation, sequestration, administrative costs and increased global competition. CREAATE calls for phasing in additional annual funding for MAP to $400 million in FY 2023 and additional annual funding for FMD to $69 million in FY 2023. The coalitions cite research that found increased public funding for MAP and FMD, coupled with increasing private contributions from farmers and others, would increase average annual agricultural export value by $3.4 to $4.5 billion and increase farm cash income by $500 million to $700 million.
The introduction of the CREAATE Act in the Senate follows the House version, H.R. 2321, introduced May 3 by Rep. Dan Newhouse (R-WA) and Rep. Chellie Pingree (D-ME).