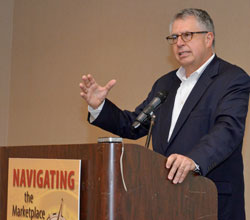 Every farm bill gets a little more difficult to pass with an increasingly urban Congress, which is why the peanut industry needs an advocate like Bob Redding in Washington, D.C.
Redding has already been involved in early farm bill preparations, such as the first House Ag Committee listening session held recently in Gainesville, Florida. Today, he will attend the Senate Agriculture Committee hearing on commodities, credit, and crop insurance, where Meredith Rogers of Camilla, Georgia will be providing testimony for the Southern peanut industry.
"Meredith is a double Dawg, she has two degrees from the University of Georgia and has been involved with her family farm for over 20 years, and we are pleased to have her testifying," said Redding.
In this interview from the Southern Peanut Growers Conference, Redding discusses the benefits of the current peanut program and their message to Congress that they would like to see it stay in the next farm bill. Interview with Bob Redding, The Redding Firm