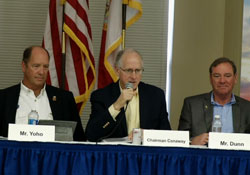 The University of Florida Institute of Food and Agricultural Sciences (IFAS) hosted the very first House Agriculture Committee farm bill listening session on Saturday in Gainesville, Florida.
Committee Chairman Mike Conaway (TX-11) presided over the first of many "Conversations in the Field" that will be held in the coming year as work on the 2018 Farm Bill is just beginning to get underway.
"Writing the farm bill is a big task, with a lot of moving parts – and it's vitally important we get the policy right," said Rep. Conaway. "The best way to do that is by getting out of D.C. and hearing from the folks this legislation impacts."
Eleven other Committee members attended the session, a majority from the Southeastern region of the country, and most of those who presented comments to the committee were from Florida, Georgia and Alabama. Several members of the Southern Peanut Farmers Federation spoke, including Ken Barton, farmer and executive director of the Florida Peanut Producers Association. "I'm especially grateful to our Florida delegation, Congressmen Dunn and Yoho for hosting today's event. While citrus is bigger than peanuts in Florida, our delegation understands how important the Peanut Program is to Florida's economy," Barton said. "(It) was a good opportunity to discuss how a fair reference price brings certainty to farming – both when demand is high, like it is currently, and during times of economic downturn."
Commodities represented at the microphone were across the board, from poultry and cattle, corn and soybeans, to cotton and peanuts, vegetables, citrus, timber and more.
Listen to the session in segments below:
Segment 1 (45 minutes) – House Ag Farm Bill Field Hearing – Florida – part 1
Segment 2 (45 minutes) – House Ag Farm Bill Field Hearing – Florida – part 2
Segment 2 (45 minutes) – House Ag Farm Bill Field Hearing – Florida – part 3