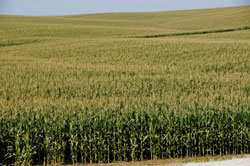 Most of the corn and soybeans around the country remain in good to excellent condition but dry weather is taking a toll in some areas.
According to the latest USDA-NASS report, corn condition as of Sunday was rated 64 percent good to excellent and only 11 percent poor to very poor, but South Dakota's corn is ranked as 38% poor to very poor. Colorado, Indiana, and North Dakota also have low rankings.
Similar situation for soybeans, with 61% good to excellent and 11 percent poor to very poor. South Dakota soybeans are also suffering with 33% in poor to very poor condition.