A number of agricultural organizations provided their input to the Office of the U.S. Trade Representative (USTR) this week regarding the upcoming negotiations to update the North American Free Trade Agreement (NAFTA).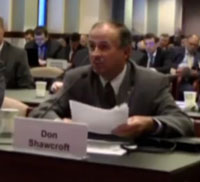 "NAFTA has been overwhelmingly beneficial for the vast majority of farmers and ranchers across the U.S. for decades," said Colorado Farm Bureau President Don Shawcroft in comments on behalf of the American Farm Bureau Federation. "A modernized NAFTA should at best eliminate, at worst reduce, barriers to trade that keep our farmers and ranchers from having a level playing field with our neighbors." U.S. agricultural exports to Canada and Mexico have quadrupled, from $8.9 billion in 1993 to $38.1 billion in 2016. Although the benefits from NAFTA are clear and many, there are reasons to reform and update the agreement, Shawcroft said.
"Free trade has benefited American farmers, and NAFTA has been extremely valuable to our industry," National Corn Growers Association First Vice President Kevin Skunes of North Dakota testified. "Twenty-three years of investment has led to a sizeable increase in trade. Since 1994, U.S. corn exports to NAFTA partners have increased more than seven-fold. Today, we export a record volume of more than 14 million metric tons of corn to Mexico and Canada, valued at $2.68 billion." Mexico is the largest export market for U.S. corn as well as a significant market for distillers dried grains with solubles (DDGS). Canada is a top-10 export market for corn and DDGS, and the number one export market for U.S. ethanol.
Others who testified included: Chandler Goule, CEO, National Association of Wheat Growers;;Ben Connor, Director of Policy, U.S. Wheat Associates; Randy Gordon, President, National Grain and Feed Association; and Chip Councell, U.S. Grains Council.
Listen or download here: NAFTA hearing testimony panel 4