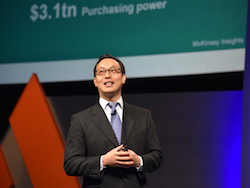 Stuart Oda previously worked as an investment banker before serving as a co-founder of Alesca Life, a Beijing-based agriculture technology company that builds weather-proof, cloud-connected farms in order to enable local food production by anyone, anywhere.
"We've developed technology for indoor farming, so it allows farmers to work in an environment that is far safer, cleaner, and closer to the consumers," said Oda in an interview with Jamie Johansen during ONE: The Alltech Ideas Conference, which he attended as part of the Pearse Lyons Accelerator Program, "We've built farms out of second-hand shipping containers, out of underground parking structures, and even restaurant corners."
Urban farming is not a new concept, but Oda believes his company's mission differentiates it from their competition: "We actually use the concept of a hub-and-spoke, almost a central kitchen concept, that uses the urban farm as both a nursery and a food production facility to deliver higher quality produce at more affordable prices directly at the point of consumption," he said.
Oda became interested in agribusiness upon learning that the agricultural supply chain is worth over 20 trillion dollars end-to-end and after he began hearing more about the environmental and economic challenges facing the industry as it works to feed 9 billion people by 2050.
It's very exciting to think about how the future of farming can impact the consumer, the industry, and the environment," he said.
Listen to Jamie's full interview with Stuart here:
Interview with Stuart Oda, Alesca Life
View and download photos from the event here:
ONE: The Alltech Ideas Conference Photo Album