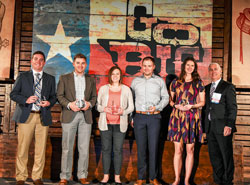 The National Agri-Marketing Association (NAMA) honored the first winners of the Next Gen NAMA Award at the 2017 Agri-Marketing Conference in Dallas last week. This new award was developed to celebrate the next generation of agribusiness marketing industry leaders. Honorees were nominated by their company supervisor or through chapter or national leadership and must be NAMA members.
The five recipients for 2017 are Tyler Clarke, Advantage Agri-Marketing Services; Cliff Dolbeare, GROWMARK, Inc.; Beth Geary, Wheat Growers; Colin Pennington, Monsanto; and Jennifer Saylor, J.L. Farmakis, Inc.
I talked with Cliff Dolbeare, who is Digital Communication and PR Manager for GROWMARK, about being involved in NAMA and the digital world of agri-marketing. Dolbeare led a redesign of eResource, the GROWMARK system extranet site used to communicate system information with member companies throughout the country. He is active in NAMA local and national chapter events and also supports student chapters and their competitions. It's a good bet he will be a leader in the industry since his mother, Roberta Simpson-Dolbeare, serves on the Illinois Soybean Board and the U.S. Farmers and Ranchers Alliance (USFRA) board.
Interview with Cliff Dolbeare, GROWMARK, Next Gen NAMA award
2017 Agri-Marketing Conference Photo Album