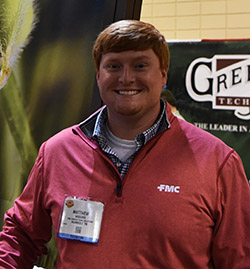 Controlling resistant frogeye leaf spot in soybeans has become a major concern in the southern states, which is where Topguard® EQ from FMC excels, according to Technical Service Manager Matt Wiggins.
"My region here in the mid-South, that's primarily the disease we're chasing in soybeans," said Wiggins at the recent Farm and Gin Show in Memphis. "The Topguard® EQ is a tank mix of two products so a dual mode of action to help protect against resistance."
Topguard EQ fungicide is the only premix that combines a strobilurin fungicide with FMC's patented flutriafol, providing multiple modes of action to manage resistance in soybeans, corn, wheat and more than 20 other crops. It was just launched last fall so Wiggins says growers are excited about using it this season as part of a total weed resistance management program.
Listen to Wiggins explain more here: Interview with Matt Wiggins, FMC