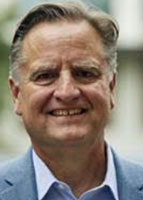 The National Agri-Marketing Association (NAMA) has named Bader Rutter CEO Greg Nickerson has been selected as the 2017 NAMA Marketer of the Year.
Through his leadership, Greg Nickerson has helped Bader Rutter become the country's largest agricultural marketing agency. Since 2009, when Nickerson was put in charge, the agency has nearly doubled in size. Perhaps even more significant is Nickerson's leadership in creating the industry's broadest portfolio of agricultural clients, as well as expanding Bader Rutter's expertise into food, technological services, buildings, interiors and more. He is positioning the agency as a thriving high-energy environment to retain and attract top talent to support ever-evolving client needs.
The NAMA Marketer of the Year award will be presented during the 2017 Agri-Marketing Conference in Dallas, Texas, and is sponsored by Agri Marketing magazine.