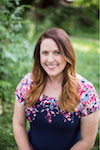 Cassie Yontz is joining the client services team at Charleston|Orwig, working to support Dairyland Seed and the Illinois Soybean Association with marketing, brand strategy and communication.
"Cassie's extensive crop and agriculture background make her a key addition to the C|O family. Her role brings immense value to our clients and C|O, and we are excited to have her join us," said Brittany Unterweger, vice president of client services.
Yontz joins the C|O team from Archer Malmo, where she served as a public relations specialist for a variety of agricultural clients. Prior to that she spent five years with GROWMARK, Inc. in Bloomington, Illinois as the publications and media relations specialist. Since growing up on her family farm in central Illinois, Cassie has had a passion for all things agriculture. She is a graduate of the University of Illinois at Urbana-Champaign with a degree in agricultural communications and public relations and remains focused on being a voice for the agriculture industry.