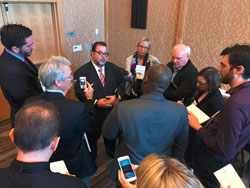 I have to admit to never having heard the word "scrum" – meaning an impromptu press conference – until yesterday. According to Wikipedia, the word comes from a rugby term where players from both teams cluster around the ball competing for possession. "Analogously, in a media scrum reporters cluster around a public figure competing for his or her attention."
So reporters covering the National Ethanol Conference in San Diego were clustered around Renewable Fuels Association president and CEO Bob Dinneen competing for his attention after his annual State of the Ethanol Industry address.
The first questions centered on the discussion Dinneen had on stage at the NEC with petroleum industry representatives and how the industries can work together. "I've been trying to move the dialogue to a different plane where we're talking about the future growth and certainty for both our industries," he said.
The media also wanted to know more about Dinneen's thoughts on the Trump administration and the new reality in Washington, as well as the future for exports in the ethanol industry.
Listen to the scrum here: RFA CEO Bob Dinneen press questions