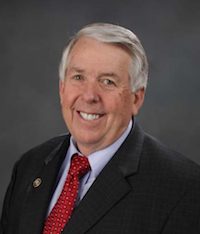 Missouri Lieutenant Governor Mike Parson has commended President Trump on his selection of former Georgia Governor Sonny Perdue to lead the U.S. Department of Agriculture.
In a statement, Lieutenant Governor Parson praised Governor Perdue's accomplishments in both the governmental and private sectors. "Governor Perdue and I share a common past being raised on family farms, serving our country in the military, and running our own small businesses. We believe in doing what's right for the people even when it isn't easy, and I know he will do an excellent job leading the Department of Agriculture and standing up for his fellow farmers," said Lieutenant Governor Parson.
The Lieutenant Governor also expressed his enthusiasm for the future of agriculture nationwide. "Being a third generation active farmer, agriculture is near and dear to my heart," said Parson. "I'm excited for the new direction in Washington, D.C., and look forward to working hand in hand with Governor Perdue and agriculture leaders to eliminate burdensome regulations and drive agriculture forward not only in Missouri, but our entire nation," said Parson.