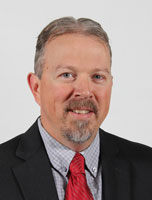 CNH Industrial has named Dan Danford to the new position of Industry Relations Manager, Precision Solutions and Telematics (PS&T). CNH Industrial is the parent company of Case IH and New Holland Agriculture and Construction brands.
Danford will represent the interests and global strategic direction of CNH Industrial with key precision-facing organizations and partners, with an emphasis in North America and South America.
"Dan's experience and connections throughout the industry will help us be a stronger voice in, and a more agile contributor to the precision industry," said Joe Michaels, Director of Global Precision Product Management with CNH Industrial. "Greater agility means we can deliver ever more integrated data solutions to our customers in a shorter time frame."
Danford joined CNH Industrial in 2012 as Public Relations and Sponsorship Manager for Case IH Agriculture in North America and has been involved in agribusiness marketing and communications for over 20 years.