Young farmers and ranchers from across the nation competed in three categories: the Young Farmers and Ranchers Achievement Award, Discussion Meet and Excellence in Agriculture.  Winners were announced during the American Farm Bureau Federation's 2017 Annual Convention & IDEAg Trade Show.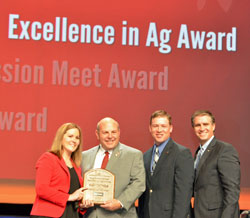 Sarah Cyphers representing the Commonwealth of Virginia earn the Excellence in Agriculture Award.  Now she'll get to choose between a 2017 Chevrolet Silverado or a 2017 GMC Sierra from Chevrolet.  She'll also get a free registration to the AFBF FUSION Conference in Pittsburgh, Pennsylvania in February.  This contest honors those who do not receive a majority of their income from their agriculture option, but who contribute and grow their involvement and their leadership.
Runners-up in the Excellence in Agriculture competition are: Wayne and Melonie Brinkerhoff of Utah, Terisha and Brian McKeighen of Arizona and Seth and Lyndsay Earl of Michigan.  They will each be receiving a Case IH Formal 50A tractor from Case IH and $3,000 in cash and merchandise from STIHL.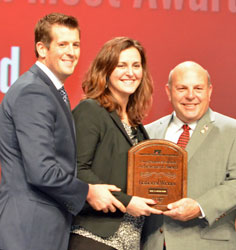 The Achievement Award went to Grant and Kristen Strom from Illinois.  They also will get to chose a truck thanks to Cherovlet and can attend the FUSION conference free of charge.  This award recognizes those who have excelled in their farming or ranching operations and exhibited superior leadership abilities.  Criteria involves their operation's growth and financial progress, Farm Bureau leadership and leadership outside of Farm Bureau.
Stewart and Kasey McGill of Alabama, Chris and Patricia Haskins from Virginia and Jan and Alice Ann Yeargin of Tennessee were named runners-up for the Achievement Award.  They will receive a Case IH Formal 50A tractor, provided by Case IH and $3,000 and merchandise sponsored by STIHL.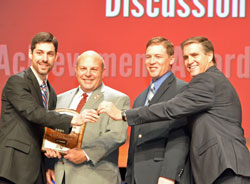 The third award winner was Matt Niswander from Tennessee.  Niswander won the Discussion Meet, a committee simulation in which participants are evaluated on their ability to exchange ideas and information on predetermined topics.  Niswander will be awarded his choice of truck, while the runners up will receive a Case IH Formal 50A tractor and $3,000 in cash and merchandise from STIHL.
Those runners-up in the Discussion Meet are Amanda Sollman of Michigan, Skye Gess of Georgia and Jessica Jones of Virginia.
You can listen to the awards presentation, including comments from each of the winners, here: AFBF Award Winners Presentation