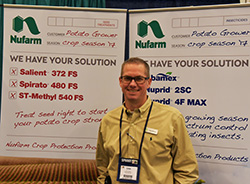 The 2017 Potato Expo is underway in San Francisco with more than 180 exhibitors at the trade show with the latest products and technology for the potato industry.
Nufarm seed treatment specialist Evan Carlisle says they are showcasing four products at the show this year. "We have three fungicides and one insecticide for seed treatments for potatoes," said Carlisle. "I think we can offer the grower the right prescription for their needs."
We'll be sharing lots more audio and photos from Potato Expo over the next week, thanks to Nufarm making that possible.
Learn more about Nufarm's products for potato growers: Interview from Potato Expo with Evan Carlisle, Nufarm
Photo album
2017 Potato Expo photos
Coverage of the Potato Expo is sponsored by