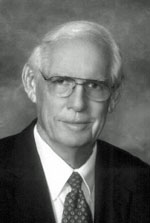 The Sugar Cane Growers Cooperative of Florida is mourning the loss of its founder George H. Wedgworth, 88.

"George left his mark on every facet of our business, Florida agriculture as a whole and the entire Glades community," said Cooperative President and CEO Tony Contreras. "He was a great friend, mentor, a true leader and a man of the highest integrity."
Wedgworth was recognized on many occasions for his contributions to agriculture, the sugar industry and the community, including his induction into the Florida Agricultural Hall of Fame in 1994 and being named Sugar Man of the Year in 2005.

Wedgworth formed the Cooperative in 1960 as a way to bring stability to Glades area vegetable growers' businesses. The first crop was grown in 1962 on 22,000 acres of land. He was at the helm of the organization for 50 years and grew the business to continue to increase the financial returns and stability to all 45 member-growers of the Cooperative. Today, the Cooperative processes sugarcane grown on 75,000 acres producing 4.2 million tons of cane yielding 482,000 tons of raw sugar and 25 million gallons of blackstrap molasses.