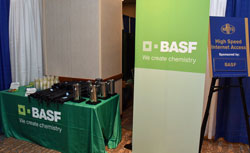 The broadcast center is the hub of activity at the National Association of Farm Broadcasting convention each year and BASF Ag Products has been its proud sponsor since at least 2008.
"We always like to host the media room so they can have a nice space to go a work on their stories here at the convention," said Sandi Wilson, communications manager for BASF. They also host media facilities at Farm Progress Show and the American Seed Trade Association CSS & Seed Expo in Chicago.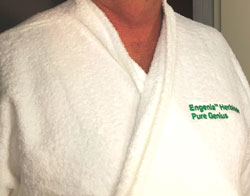 Keeping the media comfortable this year included a special gift to promote BASF Engenia herbicide – a cozy cotton Pure Genius bathrobe.
Last year BASF introduced the GROW SMART scholarship for the NAFB Foundation, which was awarded this year to Mara McGurl, senior at the University of Georgia majoring in Agricultural Communication. "BASF is always looking for opportunities to help young adults in the agriculture industry with their career," Wilson said.
Listen to my interview with Sandi here: Interview with Sandi Wilson, BASF
View and download photos from the event here: NAFB Convention Photo Album
Coverage of NAFB Convention is sponsored by