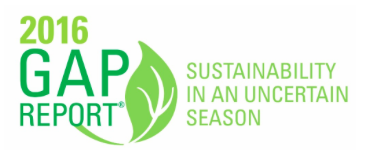 Join the Global Harvest Initiative tomorrow for the 2016 Global Agricultural Productivity (GAP) Report on Sustainability in an Uncertain Season. The event will take place Oct. 12 from 11am to 1pm at the World Food Prize in Des Moines, Iowa. You can still register for the event, but more importantly, you can watch the live webcast.
Global demand for food and agriculture products is growing rapidly, yet for many farmers around the world, this is an uncertain season. U.S. farmers are tightening their belts in response to low crop prices and high land rents. Millions of farmers in Africa will struggle to harvest a crop due to historic droughts. Political instability and economic uncertainty are stifling agricultural trade and investment.
Dr. Margaret Zeigler, Executive Director of GHI, will be joined by a panel of experts to discuss the importance of agricultural productivity and five public policy priorities that can help farmers remain competitive and improve their sustainability, while transforming agriculture into force for mitigating climate change.
Panelists will provide examples from around the world, including U.S. farmers who are expanding their operations through partnerships with institutional investors, a public-private partnership transforming Nigeria's tomato value chain by improving infrastructure and reducing post-harvest losses, nutrient stewardship programs that are protecting water quality while increasing productivity, and Ethiopia's success in building resilience to droughts and preventing widespread famine.

Panelists include:
– Ambassador Patricia Haslach, Principal Deputy Assistant Secretary for Bureau of Economic and Business Affairs, U.S. Department of State and former Ambassador to Ethiopia (2013-2016)
– Mr. Luca Fabbri, Chief Financial Officer, Farmland Partners Inc.
– Dr. Keith Fuglie, Economist, Resource and Rural Economics Division, USDA Economic Research Service
– Ms. Bonnie McClafferty, Director of Agriculture for Nutrition Global Program, Global Alliance for Improved Nutrition (GAIN)
– Mr. Ben Pratt, Vice President, Corporate Public Affairs, The Mosaic Company & GHI Board Chair