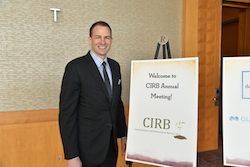 Joel Leftwich of the Senate Agriculture Committee spoke at the recent Crop Insurance and Reinsurance Bureau's annual meeting. Leftwich imparted two main messages in his talk, the first and most important was his thanks to the many people who work together to grow the food we enjoy in this country. As a small-town boy from Kansas, Leftwich knows first hand the team that includes not just the farmers, but those who support growers, like the crop insurance agencies that create certainty in the marketplace for all of us who like to eat.
His second message was about the work of the committee over the last year and what they hope to accomplish in the future. The work in passing a bill that helps schools with lunch programs has already begun. Forestry and forest fire programs are on the list, but most notable among the upcoming bills will be to address bio tech labeling.
"It's a very hot topic. The individual states are taking action and that is going to create some confusion in the marketplace. We want to provide some clarity for the marketplace so I think you'll see us turn to that issue shortly," Leftwich notes.
To hear the rest of Chuck's interview listen here: Joel Leftwich, Senate Agriculture Committee