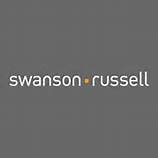 When your company needs to connect with an audience there isn't time to waste.  Swanson Russell has simplified their website to better serve those seeking to build their brand.  The new website, www.swansonrussell.com has an overhauled design and simplified approach to showcase their work, markets of focus, and the people and company who get it done.
The website features a new "Approach" section that explains how Swanson Russell works to create a connection between brands and their audiences.  The agency focuses on Agribusiness, Construction, Green Industry, Health Care, Outdoor Recreation and Regional Brands.
The "Work" section of the site features a display of more than 50 campaigns and projects, with more to come.  You can check out the work they've done for Cabela's and FMC.  "Culture" introduces users to the faces behind the scenes and focuses on the hard work, authenticity and fun that make Swanson Russell a great work environment.  The space also includes a list of openings within the agency.