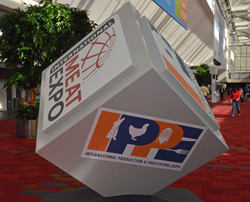 Hello from the Georgia World Congress Center and the International Production & Processing Expo. The event is sponsored by the U.S. Poultry & Egg Association, North American Meat Institute and American Feed Industry Association. There are 1,300 exhibitors occupying almost a half million square feet. It's big!
The trade show opens at 10am this morning and is where I'll be for a portion of the day. I've got a number of interviews lined up to complete and share as soon as I can.
Meanwhile, Cindy and Joanna are covering the National Biodiesel Conference and Jamie is on her way to the Cattle Industry Convention and NCBA Trade Show. We'll have a lot of great new content for you this week.
Be sure to check out complete coverage of IPPE and CIC on Animal.AgWired.com.
Photos from IPPE: 2016 IPPE Photo Album