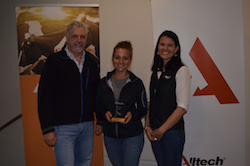 Ten young ag leaders representing ten countries are gathered in New Zealand to continue to develop their leadership skills and further their professional development in ag journalism.  The International Federation of Agricultural Journalists (IFAJ) boot camp is sponsored by Alltech and provides the journalists with opportunities for presentations, interactive group sessions, and even a visit to a local dairy.
Matthew Smith, Alltech vice president of Asia-Pacific, presented "Agribusiness leadership today and tomorrow," encouraging the delegates to be different and break the mold. "Leaders should not think outside the box; they should get rid of the box altogether," said Smith.  Smith also stressed that agricultural journalists must travel for a truly international perspective that they can then share with their readers, listeners and viewers, whose livelihood is highly influenced by global activities. "Our industry is global—there are no borders," he advised, challenging the journalists to think outside of their individual countries and look for the bigger stories.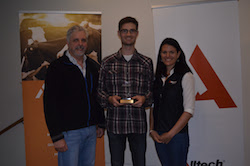 Winners of this year's IFAJ-Alltech Young Leaders Award Candace Weeda (USA) pictured right, Trevor Bacque (Canada) pictured left, Brett Worthington, (Australia), Christian Erin-Madsen (Denmark), Andrea Bergman (Finland), Ewald Wurzinger (Austria), Doerte Quinckhardt (Germany), Ben Pike (United Kingdom), Mary Phelan (Ireland), and Camilla Olsson (Sweden).
Candidates were selected based on a written submission, leadership potential, proven leadership abilities and a narrative of their interest in the program.  The boot camp is now in it's 11th year and more than 100 journalists have come through the program.
"As part of its global strategy, IFAJ is taking new measures to unite colleagues from around the world," said Owen Roberts of Canada, IFAJ vice-president. "With Alltech's help we are mobilizing the agricultural journalism profession, an essential link in the knowledge translation and transfer chain for farmers everywhere."
The young leaders' program is held jointly with the IFAJ-DuPont Pioneer Master Class prior to the IFAJ congress.