This week the National Agri-Marketing Association's annual Boot Camp is taking place in Kansas City, MO. The Chair for the conference this year is Michelle Jones, Iowa Soybean Association.
During the conference Jamie Johansen spoke with her about this year's schedule and how the conference was going. So, I'm sharing that interview in my ZimmCast this week. In case you don't know what Boot Camp is: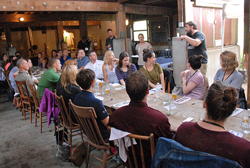 Join the National Agri-Marketing Association for the 12th annual NAMA Boot Camp, August 18-20 in Kansas City. Whether you've just entered the rough working world or one who's been through the NAMA Boot Camp drill before, sign up for this program today to learn more about the agri-marketing industry. This year's Boot Camp will take it to a new level expanding on marketing and agriculture basics.

Listen to Jamie's conversation with Michelle in this week's program: NAMA Boot Camp 2015
You can find more photos from the event here: NAMA Boot Camp Photos