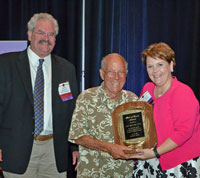 AAEA, LPC and ACT all honored the best of their best during the annual Ag Media Summit awards banquet Tuesday night. The awards were many and well deserved – from new Hall of Fame members, distinguished service, lifetime achievement, and horizons – to annual best of shows in photography, writing, and design – to just-because-we-love-you awards.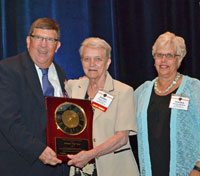 Among those honored were Dick and Pete Crow, publishers of Western Livestock Journal, received into the LPC Hall of Fame. Roland "Pig" Paul, who was unable to attend the meeting, was honored with the AAEA Distinguished Service award and 1983-84 organization president Len Richardson received the Lifetime Achievement Award.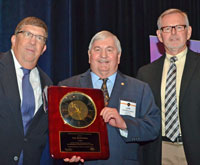 There were lots of other awards presented last night and even more by the organizations earlier in the day. I created a separate album just for all the individual AAEA award winners presented just prior to the banquet – 2015 AAEA Business Meeting and Awards.
The general photo album has been updated with all photos and I am getting ready to take off for home so I can meet Chuck and get read for our next trip – to the Sturgis Motorcycle Rally for the Renewable Fuels Association! We will be posting more from AMS in the week ahead – and seeing y'all down the agriblogging highway!