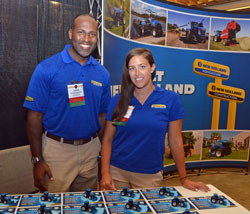 Have you done your Tractor Tweet yet?
The fun and famous New Holland Tractor Tweet is back at the Ag Media Summit this year, keeping Chris Ballentine and Aimee Culbert busy handing out little blue tractors at the InfoExpo. The concept is simple. Take a creative picture of the little New Holland tractor at AMS and tweet it with tags @NHAgriculture, #TractorTweet120, and #AgMedia – and maybe win a free iPad.
"We originally started this at one of the NAMA events and found that it went over really well," said Chris. "It's fun, it's lighthearted, we're not asking for anything. Take a tractor, get creative with the pictures, tweet it, throw the hashtag on it and possibly win an iPad."
Chris says New Holland is a part of Ag Media Summit because they really value and appreciate their relationships with the ag media and they want to make sure reporters know they can always count on them to get the information they need for stories they are doing.
Listen to my interview with Chris here: Interview with Chris Ballentine, New Holland