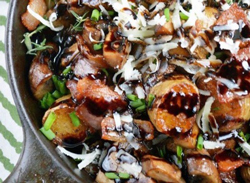 Potato Lovers Club bloggers are participating in the second Speedy Spud Challenge. This recipe competition has seven competitors. I picked the photo of this entry because it is one of the entries that contains bacon! The competition is being held by the United States Potato Board.

Bloggers were asked to create an original, yum-worthy potato recipe that can be made in 30 minutes or less, and share it on their blog for the chance to win a trip to Chicago to act as potato ambassadors at the annual Eat, Write, Retreat food blogger conference. Bonus points were also offered to bloggers who helped promote the USPB's #TopTater hashtag campaign and shared their recipes on their respective social media properties.
Seven bloggers opted into the challenge, sharing deliciously creative potato recipes, many of which utilized convenience potato products. From Hash Brown Tostadas to Buffalo Chicken Poutine, here is a peek at entries from "The Speedy Spud Challenge." After a recipe tasting and judging session, two winners will be crowned in mid-May.