It all started with a tweet. Tyler Hubbard announced that he wanted a New Holland T5 tractor. New Holland got the message. What happened next was the New Holland Voice of the Next Gen Contest. AgWired helped promote the contest and now it has concluded successfully. Six weeks from start to finish. Now that's executing on a short time frame!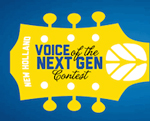 Here in Episode 2 of my series on the Next Gen project we'll meet the folks in charge of the New Holland team that put together the promotion and also hear from Tyler Hubbard, the Georgia part of Florida Georgia Line.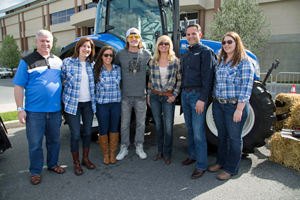 In this photo you can see the New Holland team posing with Tyler Hubbard in Hershey, PA. New Holland brought the five contest winners together along with local dealers and their customers to meet Tyler Hubbard prior to the Florida Georgia Line concert Saturday night.
During the Meet and Greet I talked with Dawn Pelon and Mark Hooper about how the contest came together. Dawn says that Tyler sent a tweet containing a photo of their T5 Tractor brochure with the words, "If only one could wish." From there New Holland worked on making his wish come true. Mark says it's exciting to see people engage in something like this contest. "I think this is something New Holland does differently. We connect with customers and people in a different way."
With this campaign over Dawn says they're kicking off a new contest on social media called The 1st Cut Competition. Hay growers are asked to submit creative photos of their first cut of the season to the contest website. The contest begins today and ends July 31. The hashtag is #NH1stCut. The prize is a Roll-Belt 450 Silage Special Round Baler.

During the Contest Period, you can enter the Contest at www.NHFirstCut.com ("Website") by completing all required fields on the registration form, uploading an original photo ("Photo") of your 1st cut and Photo Title of 10 words or less (all components combined constitute the "Submission"). The Photo could be of your hay field, equipment, or yourself in the field. Limit one (1) Submission per person. Only the entrant may appear in the Photo. Full rules here.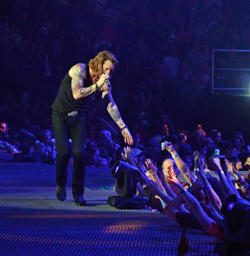 Let's move on to my conversation with Tyler Hubbard. Here's Tyler Hubbard on stage during the band's performance. We had a rowdy crowd that night enjoying the performance.
Tyler grew up in Georgia and moved to Nashville when he was 18 yrs. old. He's got a farm and loves the New Holland brand. He works with his local dealer but has met a lot more New Holland people on this promotion. When it comes to America's farmers and ranchers Tyler sends out a lot of "love and respect" for farming and working hard.
Listen to more about this great New Holland promotion and what Tyler had to say in this week's program: New Holland Next Gen with Tyler Hubbard