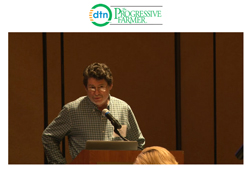 The American Agricultural Editors Association and the Livestock Publications Council are holding their Midwest Regional Workshop today. The title is, "The Nuts and Bolts of Communication."
DTN/The Progressive Farmer is supplying a livestream of the workshop today. On the screen when I tuned in is Jim Patrico, Senior Editor for DTN/The Progressive Farmer.
The topics today include how to Rock Your Assignment, Breaking News Better and Storytelling in a Twitter World. Remember way back when no one had heard of Twitter? Remember thinking, "This is stupid." Amazing what Twitter has done to communications and news isn't it?