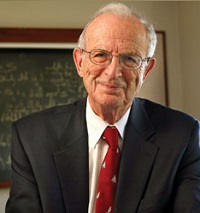 A man described as a visionary is being honored for his 60-year career teaching, working with industry, research and international development in agribusiness. The International Food and Agribusiness Management Association (IFAMA) will recognize Dr. Ray Goldberg as its Distinguished Service Award recipient on June 16, 2015 at the 25th Annual IFAMA World Conference President's Award Dinner in St. Paul, Minnesota.
"I am honored to be celebrating the distinguished service of one of the visionaries of our field, who not only founded IFAMA, but has made invaluable contributions over a 60 year career to teaching, industry, research and international development," said Thad Simons, President of IFAMA and CEO Emeritus of Novus. " It is especially fitting that we present the Distinguished Service Award to Dr. Goldberg in St. Paul, considering that at the beginning of his illustrious career he earned his Ph.D. from the University of Minnesota."
A native of North Dakota, Dr. Goldberg received his A.B. from Harvard University in 1948, his MBA from the Harvard Graduate School of Business Administration in 1950 and his Ph.D. in Agricultural Economics from the University of Minnesota in 1952.
Together with John H. Davis he developed the Agribusiness Program at Harvard Business School in 1955. From 1970 to 1997 he was the Moffett Professor of Agriculture and Business and head of the Agribusiness Program. Since July 1, 1997, as emeritus professor, he has chaired the Agribusiness Senior Management Seminars at Harvard Business School and continues to teach courses. He is the author, co-author and or editor of 23 books and over 110 articles on positioning firms and institutions in the global value added food system. He also has authored and supervised the development of over 1000 case studies on various private,public, and farm cooperative firms and institutions in the global food system.
The IFAMA World Conference, sponsored by CHS and Novus, will also feature a Student Case Competition, a Symposium and a World Forum focused on the theme "Become the Solution: Food Security 2050." An international audience of students, academics and industry leaders will gather from June 14 – 17, 2015 at the St. Paul River Center in St. Paul, Minnesota for the event.